The Info menu is a useful way to view your current status.
The first tab describes things like your current level, amount of gold and stars and gold keys you have, space on your flotia vs space used, and available favors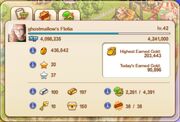 The second tab is the favor tab. It shows not only the favors you've requested, but favors friends have requested and their percent complete.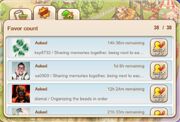 The final tab is the island tab. It displays islands owned and the buildings, decorations, and plants occupying the islands and their levels.